Who we are
Established in 2000, Level IT provides solutions and services to help customers to realize benefits of new technology driven Business & Manufacturing Intelligence solutions.
Level IT is designed and engineered to address challenges across industry domains and business functions.
Over the years, we have analyzed and understood hurdles and growth of individual Industry domains. So you can be confident that we will deliver unparalleled results for your organization.
Our team
First of all, Level IT employees are passionate, dynamic and available.
They are highly qualified and experienced professionals. All of our developers have a Bachelor or a Master degree in Computer Science and an average experience of five years.
New employees undergo comprehensive training on our development process and quality standards before starting or joining their respective projects.
Ongoing training and professional certification is important to us , and the number of our employees with certifications is continually growing.
All employees undergo regular performance evaluations to help them maintaining their job satisfaction and ensuring their professional growth. Every developer is proficient in written French, English, and all managers speak fluent English.
We have set up an opened mind discussion policy. Setting up high performance teams with our customers and partners is a key factor to deliver outstanding results.
Virtuous circle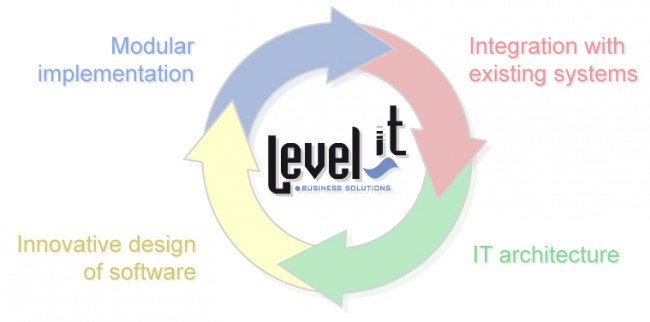 Used technologies
Master Data Management (MDM)
Workflow engine
Federated Identity
OLAP/BI
CMS
EAI
---